Albany Senior High School
Nurture. Inspire. Empower.
ASHS Update – Mask Mandate from next Wednesday!
Kia ora e te whānau,
We have had a number of staff and students voicing concerns with the numbers of students wearing masks inside dropping off. Last night the ASHS board met and they/we are mandating mask wearing inside whilst New Zealand is at the orange traffic light setting. We will communicate this message today and will enforce it from Wednesday onwards – although would appreciate everyone wearing masks indoors today as well. Free masks are available for staff and students at Reception and around each community.
Why we are doing this
As you know New Zealand is experiencing a second wave and as a school we are experiencing a spike in staff and students away with COVID-19. We are also seeing a spike in flu and winter illness. Mask wearing indoors is a small sacrifice we can make to help reduce infection. As you know we care about being kind to each other here at ASHS and we care about people feeling as safe as possible and having a sense of belonging. This will not be forever, and our staff and students are welcome to enjoy your breaks outdoors and mask free. Please support me and each other in making ASHS as safe as possible. We got this team!
I also remind you that if your young person is unwell, please get them to stay home! They need to put their health first.
Reporting a student with COVID-19
As a school we are expected to keep a record of staff and student who are absent due to COVID-19. If your young person tests postive, please complete this form.
ASHS COVID-19 Notification form for Students
Reminder from yesterday's newsletter…
Short Learning from Home "Circuit Breaker" Friday 27/05 – Tuesday 31/05
We will switch to learning from home from this Friday to next Tuesday. During that time ALL students will be expected to engage with learning via their Google Classroom and regular Google Meetings.
The schedule for this is below.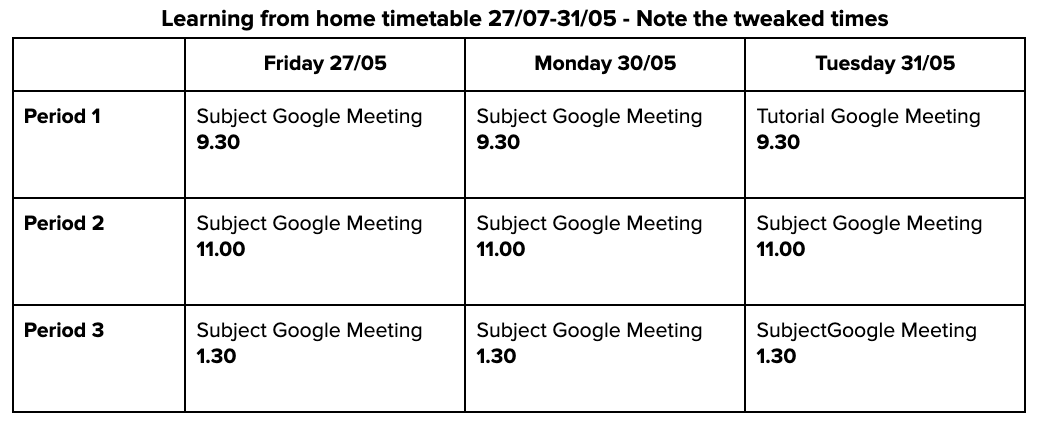 Part Two – Self-directed learning in specialist subject zones Thursday-Fridays Weeks 5-8
In the coming weeks we are likely to experience continued disruption due to ongoing increased staff and student absences. As we know, our learners learn best when in school and we need to have a strategy in which we avoid school closures. The following strategy is informed by our commitment to developing learner agency by supporting learner agency. By focusing on increasing self-directed learning we are able to keep the school open and deliver our timetabled classes whilst experiencing fluctuating staff numbers.
Timetabled classes would continue as normal on a Monday and Tuesday. These classes will have a focus on direct instruction and preparing the student for learning for the week.
Impact Projects will continue as normal.
In Period Two and Three on Thursday and Period One, Two and Three on Friday students will go to the spaces based on their timetabled subjects. Learning zones will be established which will bring all classes from a specific learning area together, i.e. all students who do Maths class in Line One will go to the same space. Specialist subject teachers from that learning area will then be on hand to help students to progress their work and assessments. All students must work alongside a teacher. All students will be supervised and supported by teachers at all times.
We encourage you to read the full strategy here:
Link to Learning Strategy for Term Two
We know this strategy may seem overwhelming, particularly for those who are new to the school. Please be assured that we will work closely with our learners to support them every step of the way. We ask that you continue to support us by ensuring your young person is attending classes online and in person. We will checking in on the effectiveness of this strategy regularly to ensure it is effective in delivering great learning and addressing the challenges we face at present.
As always, thank you for your ongoing support!
Important Dates in Term Two
Learning from Home – Friday 27th – Tuesday 31st May
Queen's Birthday – Monday 6th June (Public Holiday)
Matariki – Friday 24th June (Public Holiday)
Nga mihi
Albany Senior High School