Albany Senior High School
Nurture. Inspire. Empower.
Whānau ki te Ako update – Term Two 2022
'Better Together: A connected pathway for empowered learners' reflects our shared thinking and journey together.
Kia ora e te whānau,
As many of you already know, ASHS is part of the Whānau ki te Ako community that is made up of seven schools from across the wider Albany area. I also have the privilege of being co-lead of this community for the next two years.
Sue and I are now nearing the end of our first full school term as co-leads of our Kāhui Ako 'Whānau ki te Ako'. It has definitely been an exciting journey as we learn how best to balance our roles as Principals of Upper Harbour Primary School and Albany Senior High School alongside the co-leadership of our Kāhui ako. This would not have been possible without the support of our senior leadership teams, our fellow Principals and our fabulous Kāhui ako Across School and Within School Leads. What a team!
If you are wondering what 'Whānau ki te Ako' is, what a Kāhui ako is or even wondering what we are actually doing, I encourage you to check out this presentation that we put together earlier this term. We are very excited about the great work that is happening across our seven kura (schools) and the work that our Across School Leads and Within School Leads are undertaking.
Last month we brought together all of the Within School Leads and Across School Leads from across our school community for a day of connection and collaboration. It was great to learn about what has been happening in each school and to explore how we will do more together. In the spirit of greater collaboration and the idea that we are "better together" our Deputy Principals also got together to look at what initiatives we prioritise as an entire community to ensure our young people get the very best educational experiences throughout their learning pathway. We will give you an update about some of these exciting initiatives next term. In the meantime our Across School Leads have shared some of their highlights from the last term below.
On behalf of the Kāhui ako leadership team, we would like to wish everyone in our community a safe and relaxing break and we look forward to connecting with each of the schools and communities even more in the coming months.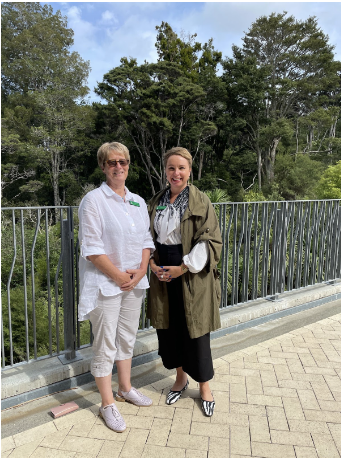 Hei konā mai,
Claire Amos and Sue Smith
Co-Leads | Whanau ki te Ako
Whānau ki te Ako Term Two Highlights
Kathryn Berkett Presentation
By Across School Lead | Sarah Fish
On Tuesday 7th June Whānau ki te Ako hosted a 'Neuroscience of Device Zombies' presentation from Kathryn Berkett. Her knowledge, and experience around the neuroscience of the brain, accompanied with her humour, made for interesting and thought provoking material, surrounding screen based technology and society's exposure to it.

Leadership across the Kāhui Ako
By Across School Lead | Philippa Wintle
The mahi within the leadership portfolio this term has been centred on publishing a thorough summary of the senior leadership structures and approaches within each kura. This report should be ready to share with kura in Whānau ki te Ako at the end of Term 2, or right at the beginning of Term 3. This summary will be particularly useful for senior leadership teams. Philly will work with Laurayne Tafa, a PLD facilitator with Cognition Education to identify opportunities for PLD for the senior leaders of Whānau ki te Ako, based on "What is, what might be, what should and what will be."
Looking at Learner Agency
By Across School Lead | Melissa Erceg
Learner Agency encompasses the idea that akonga (learners) have a sense of ownership, where they feel in control of and are able to steer their own direction of learning. This occurs when akonga are given the tools and support to make informed choices throughout their learning.
This term, I have been out and about in some of our primary kura (Years 1-6) across Whānau ki te Ako, to discover what Learner Agency looks, feels and sounds like in our different classroom contexts. It has been amazing to see the ways in which our kaiako (teachers) encourage agentic learning environments, and the tools and strategies used to support akonga to become more agentic.
While the continuum of choice and options looks vastly different in a year 1 class compared to a year 6 class, the central idea of akonga taking ownership over their learning, and feeling successful as a learner, is synonymous across these kura.
I feel incredibly privileged to have had this opportunity to speak with so many akonga and kaiako this term.. I look forward to continuing this mahi (work) in the coming term and visiting other kura (including Albany Junior High and Albany Senior High) within this brilliant cluster of schools.
Librarian Gathering
By Across School Lead | Shelley Wilson
AJHS hosted a meeting on 10th June for all our Whānau ki te Ako librarians. Sandrea Ware and Jo Ramsay supplied each school with an old map of Tamaki Makaurau and a translation of its Maori names, along with other local history resources. Special guest Lana Gaevski, of Albany Village Library, also contributed a wealth of information and expressed her interest in continuing to collaborate with our schools. As a result of this meeting ASHS's librarian, Sharon Jackson, has created a website to house history resources for all our teachers to access.

Open Evening is coming!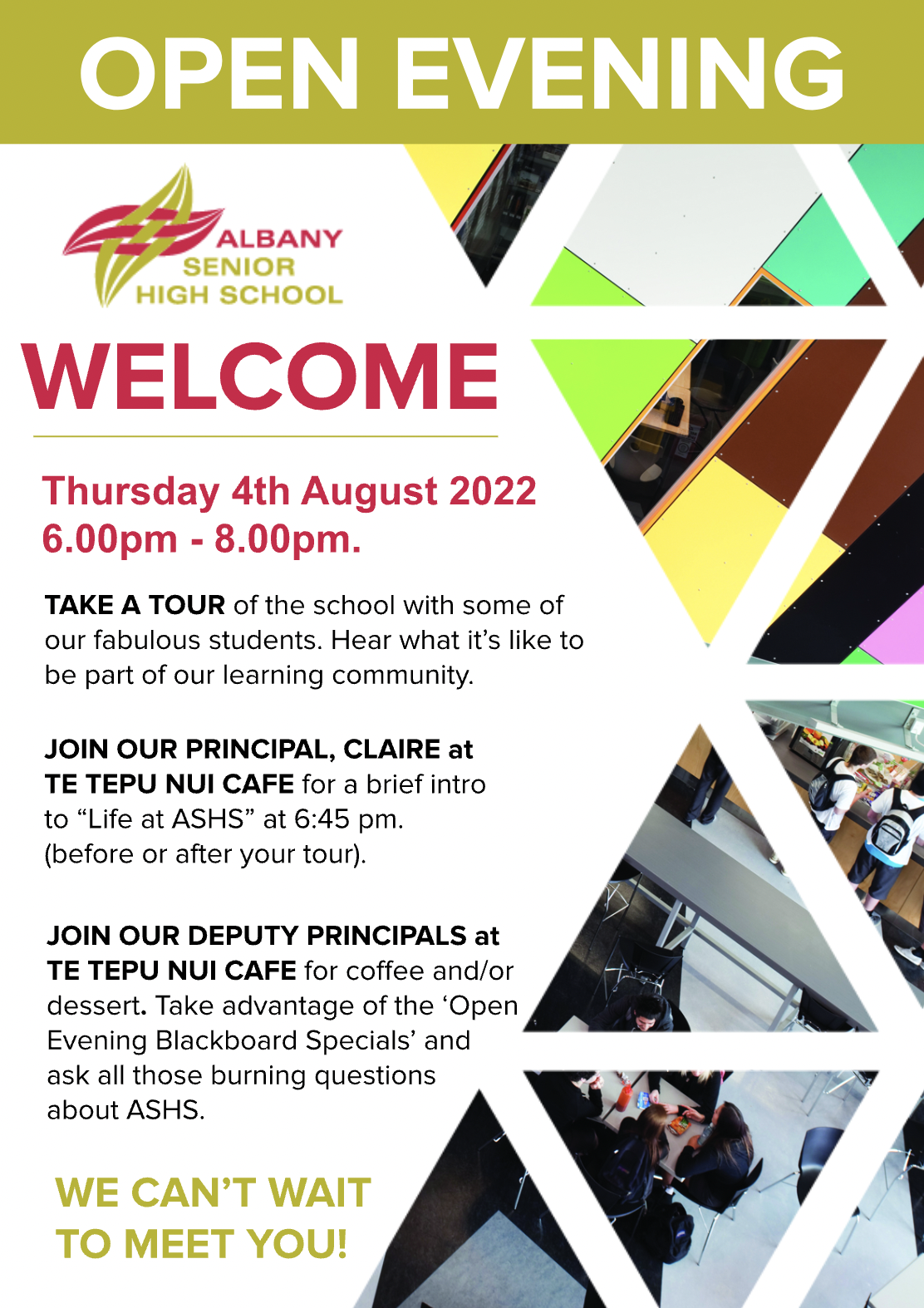 2023 Enrolments are now open!
If you or anyone you know has a young person planning to join ASHS next year, please get them to enrol here: https://www.ashs.school.nz/enrolment/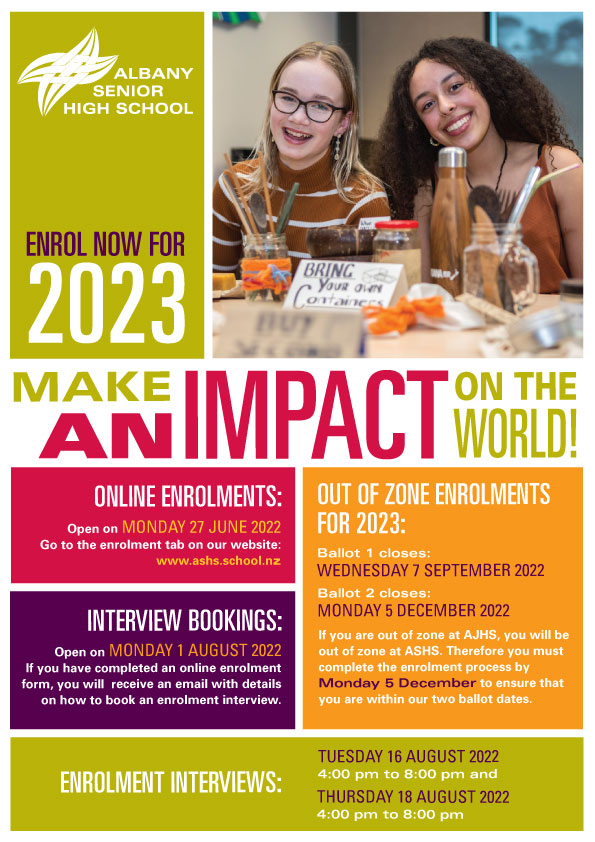 And there is a lot on next term! Make sure you have the following dates in your calendar.
Important Dates in Term Three
ASHS Open Evening 6:00 – 8:30 pm – Thursday 4th August
2023 Enrolment Evenings – Tuesday 16th and Thursday 18th August
NCEA Accord Day – Wednesday 25th August
Learning Dialogues Thursday 25th August and Tuesday 30th August
Midterm Break – Friday 26th August
Prelim (Practice Exams) – Thursday 15th – Tuesday 20th September
IP Celebration of Excellence Evening – Wednesday 28th September
Nga mihi
Albany Senior High School