Albany Senior High School
Nurture. Inspire. Empower.
ASHS Updates – Pink Ribbon Breakfast, midterm break and Learning Dialogues
Kia ora e te whānau,
Below is an invite to the Pink Ribbon Breakfast that is being organised by our fabulous Head Students and a wee reminder about Learning Dialogues and midterm break.
ASHS Pink Ribbon Breakfast
ASHS is taking part in the Pink Ribbon Breakfast campaign this year to help support Breast Cancer Foundation NZ's vital work. The money raised will be used to educate the public about breast health; support patients and their families during treatment and beyond; and fund research projects and medical grants to help improve survivorship. We would love your support!!
We will be hosting our Pink Ribbon Breakfast on Thursday 8th September at 7:30am at ASHS. There will be plenty of food and drink available, as well as a guest speaker who will be sharing her own personal experience. Tickets are $15pp (with payment information on the google form), and the first 20 people to purchase tickets will receive a goodie bag!
Google form: https://docs.google.com/forms/d/e/1FAIpQLSdKsqkqqSz1sWiDt4smoOYM8B5xgMTWuhKw_ai05JrZN8e3zw/viewform?usp=sf_link
We look forward to having your support for our fundraiser, and if you can't make it to the event but still want to support the cause, feel free to check out our fundraising page at the link:
http://pinkribbonbreakfast.co.nz/page/albanyseniorhighschool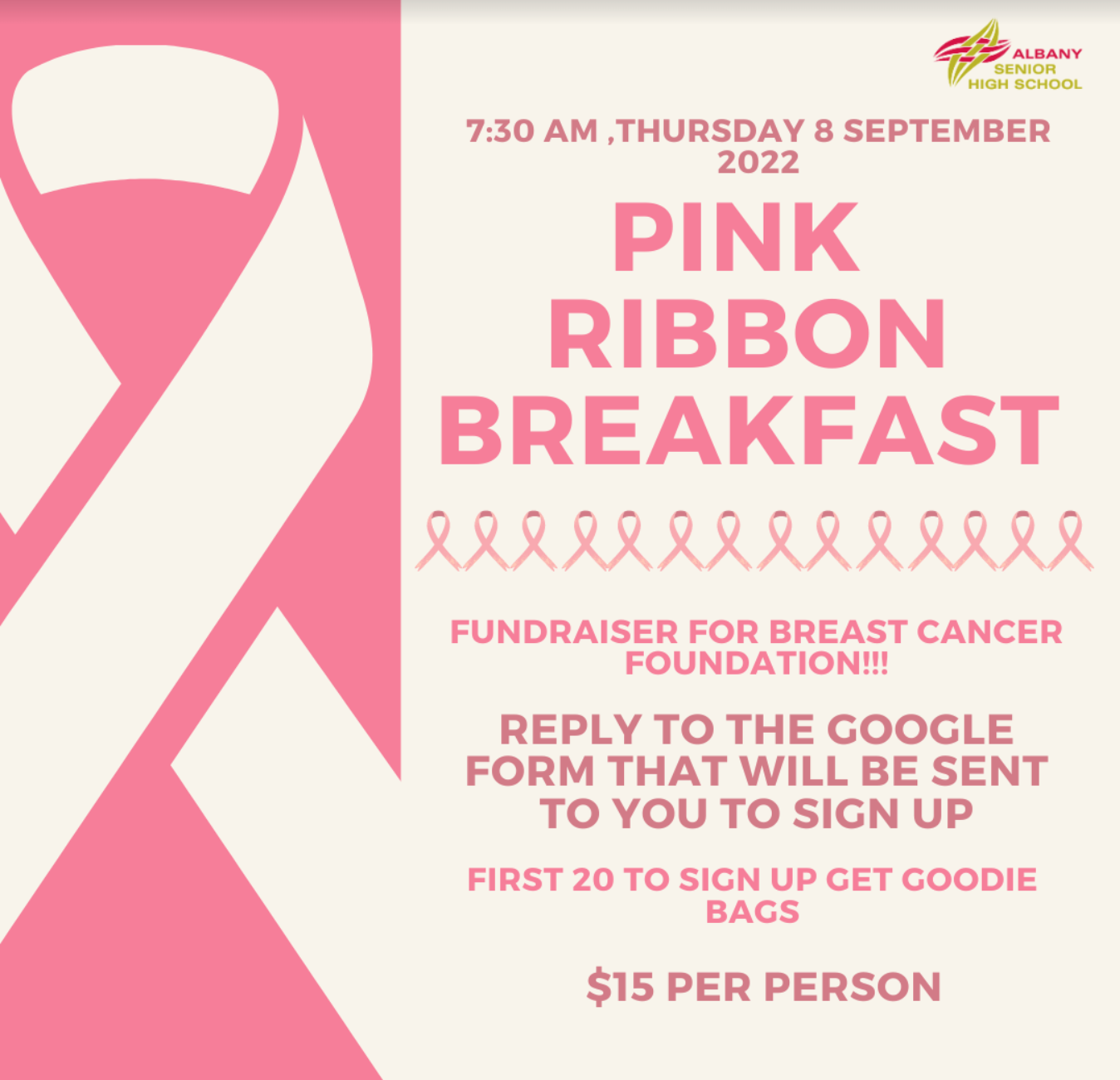 Midterm break this Friday!
Just a reminder that the school will closed on Friday as it is midterm break.
Learning Dialogues
Learning Dialogues dates are Thursday 25th August and Tuesday 30th August.
The details of the Learning Dialogues and the booking instructions should have been sent to you already. If not, please get in touch with your young person's Tutor teacher.
2023 Enrolments are now open!
If you or anyone you know has a young person planning to join ASHS next year, please get them to enrol here: https://www.ashs.school.nz/enrolment/
Note – any out of zone (OOZ) enrolments must be completed 5th December. All OOZ enrolments completed by that date are guaranteed a spot at ASHS. No OOZ enrolments accepted after that date. Please spread the word!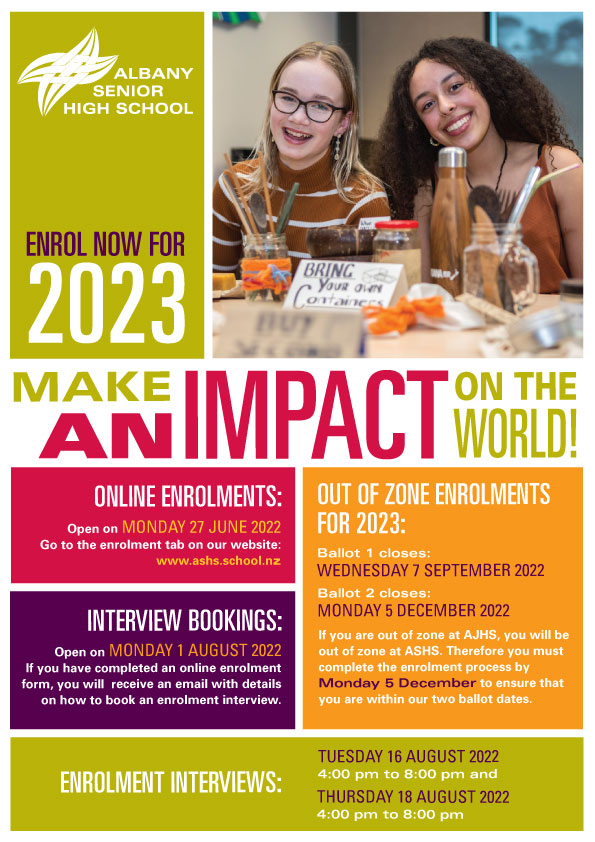 And there is a lot on next term! Make sure you have the following dates in your calendar.
Important Dates in Term Three
Learning Dialogues Thursday 25th August and Tuesday 30th August
Midterm Break – Friday 26th August
Prelim (Practice Exams) – Thursday 15th – Tuesday 20th September
IP Celebration of Excellence Evening – Wednesday 28th September
School Holiday dates for 2022 and 2023 – https://www.education.govt.nz/school/school-terms-and-holiday-dates/
Nga mihi
Albany Senior High School